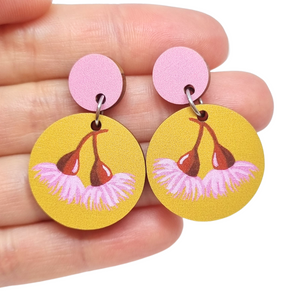 Australian native wildflower Pink Gum Blossom wooden stud earrings. 
Made in Australia from our original hand painted design, these earrings are printed with eco-friendly inks onto light weight, sustainably grown eucalyptus wood and paired with stainless steel posts, perfect for sensitive ears!
Corymbia ficifolia, known as the pink or red flowering gum is a small hardy tree that grows in the sandy heath and low woodlands of south-western W.A. It produces large spectacular clusters of pink, red or orange flowers in summer followed by large woody egg-shaped fruits containing seeds.
The flowers are a source of food for nectar-feeding birds. Indigenous people see eucalypts as a sacred plant that has a purifying and cleansing effect. The flowers are associated with the qualities of joy, love, beauty and abundance.
P.S ~ All our packaging is plastic free!