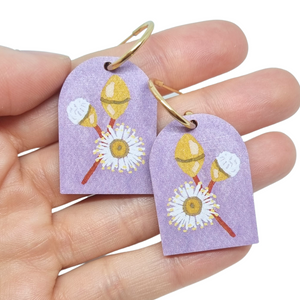 Australian native wildflower White Gum Blossom wooden hoop earrings.
Made in Australia from our original hand painted design, these earrings are printed with eco-friendly inks, onto light weight sustainably grown hoop pine and finished with 18k gold plated stainless steel stud hoops, perfect for sensitive ears!
Eucalyptus marginata, commonly known as the White Gum, Jarrah, Swan River mahogany or djarraly in the Noongar language is a magnificent tree common in the south-western region of W.A. It can live for 500 years, grow up to 50m tall x 4m wide, has rough, fibrous bark and produces clusters of beautiful, strongly scented creamy white flowers in Spring and early Summer.
The Jarrah is an important ecological tree, providing habitats for many wildlife, especially birds. The flowers attract a wide variety of birds, insects, mammals and bees who use the nectar to produce a top-quality, highly antimicrobial honey. The tree has been extensively logged for its insect resistant, dark red hardwood timber and is very vulnerable to dieback caused by a soil-borne fungal disease. 
The leaves, gum, bark and wood were traditionally used for various antiseptic medicinal purposes, making tools and housing. The blossoms symbolise the healing power of nature, protection, purification, strength, resilience, endurance, releasing negative energy and finding emotional balance and harmony.
Care Instructions: Do not wear swimming or bathing.
P.S ~ All our packaging is plastic free!